About Us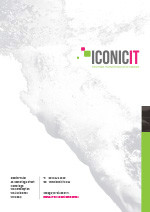 Read Our Brochure
Iconic IT are a new generation of IT Professionals and technology enablers; we have a creative team of technologically savvy and industry accredited experts with over 100 years of combined IT knowledge and experience dedicated to providing the very best of breed professional IT systems and IT support from any start point.
Working in partnership with our clients, Iconic employ the very latest industry technologies enabling us to not only meet but exceed expectations, ultimately improving outcomes and helping to further develop new ideas and initiatives for the future. In this current time of recession, Iconic IT has seen a growth of 30% year on year and over the last 5 years this has enabled us to reinvest back in to the company and provide stability.
Iconic are at the forefront of technology and are an independent IT solutions house, we have worked within corporate and public sector organizations throughout the UK on projects such as Virtualization, POC's (Proof Of Concept), BYOD (Bring Your Own Device), MDM solutions and Business continuity, we have built up key partnerships with all the top venders such as Microsoft, Citrix and VMware enabling us to stay ahead of the competition.
If you would like to find out more about how Iconic IT can help your business with our IT support and consultancy services then please contact us today on 0330 088 3338.