Iconic have recently upgraded a large majority of our servers to Windows 2012 R2 – most of them were in place upgrades and resulted in the errors in Server Manager as shown and explained below.
Following an upgrade from Windows Server 2012 to Windows Server 2012 R2, upon opening Server Manager you may receive an issue telling you that you got an "Online Data Retrieval Error" as seen in the screenshot below.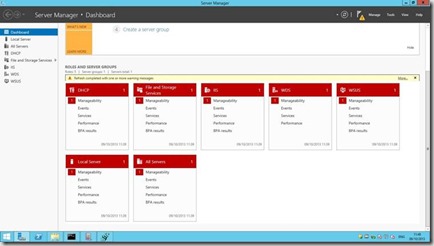 This error arises because the event service is attempting to read an event log that no longer exists.
We can only assume that this event log is deprecated in Windows Server 2012 but we are investigating further.
The event log in question is Microsoft-Windows-DxpTaskRingtone/Analytic
A Review of the logs in the Event Viewer confirms this.

As does a manual inspection of the logs folder.
The simple answer to fix the error is to stop the event service looking for the log file by removing it from the registry.
Backup your registry keys before applying the below fix – this is just good standard practice
Delete the following key.
HKLM\SOFTWARE\Microsoft\Windows\CurrentVersion\WINEVT\Channels\Microsoft-Windows-DxpTaskRingtone/Analytic

Now return to Server Manager and refresh to see all is well.
Any questions or queries please email us at Blogs@IconicIT.Co.Uk