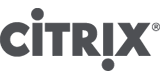 Citrix Suite

Server Virtualisation
Citrix XenServer
Citrix XenServer is a virtualisation platform which is enterprise-ready and cloud-proven. Including all the features required to create and manage a virtual infrastructure, XenServer is trusted by some of the most demanding organisations to run their mission critical applications and is used by many large cloud providers. Based on the industry-standard Xen hypervisor, and created by the inventors of Xen, Citrix XenServer is a complete, managed server virtualisation platform.
Why use XenServer?
Citrix XenServer radically reduces datacentre costs, increases the flexibility of the IT environment, creates efficiency in the IT environment, and enhances user performance and productivity. How?
Cuts costs — Save on power and cooling costs by converting physical servers into virtual servers, this reduces the number of physical servers required in the datacentre. By consolidating servers, hardware maintenance costs are also reduced.

Increases IT agility and efficiency — IT can easily adapt to the changing demands of the datacentre by dynamically increasing or decreasing capacity, placing VMs for optimal hardware utilisation, and automating repetitive management tasks.

Improves performance and user productivity — XenServer enables 'zero downtime' maintenance, automatic recovery from hardware failure, and provides failover capabilities in disaster situations. End users are ensured access to mission critical application in all scenarios.
Citrix XenServer Brisbane is designed for the efficient management of Windows and Linux virtual servers. This gives the ability to an organisation of any size to transform a traditional static and/or complex datacentre environment into more dynamic, easy to manage datacentre.
If you would like to find out more about how Iconic IT can help your business with our consultancy services then please contact us today on 0330 088 3338.