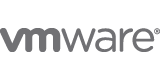 Vmware Suite

Management Solutions

VMware vCenter Server provides a scalable and extensible platform that forms the foundation for virtualization management. VMware vCenter Server, formerly VMware VirtualCenter, centrally manages VMware vSphere environments allowing IT administrators dramatically improved control over the virtual environment compared to other management platforms.

The VMware vCenter Server platform is the industry's most robust virtualization management solution. Advanced capabilities provide the greatest visibility, proactive management and scalability for your virtual environment. vCenter Server is a foundation you can easily extend for end-to-end integration with your physical environment and upon which you can build a private cloud infrastructure.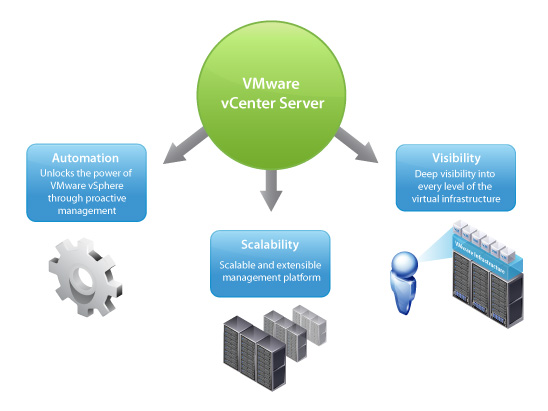 Centralized Control and Deep Visibility into Virtual Infrastructure
An improved user interface allows for easier navigation. Access different parts of the vSphere Client from a vCenter Home Page featuring a new dashboard and navigation bar.
Inventory search puts the entire vCenter inventory including virtual machines, hosts, datastores, and networks at your fingertips from anywhere within vCenter.
New hardware monitoring with CIM SMASH enable alarms when hardware failures of key components such as fans, system board and power supply occur, providing an integrated view of physical and virtual server health.
New storage maps and reports convey storage usage, connectivity and configuration. Customizable topology views give you visibility into storage infrastructure and assist in diagnosis and troubleshooting of storage issues.
Improved alerts and notifications support new entities, metrics and events such as datastore- and VM-specific alarms. These alarms can trigger new automated workflows to remedy and pre-empt problems.
Improved performance graphs monitor virtual machines, resource pools and server utilization and availability with more detailed statistics and graphs that can be viewed in real time or across a specified time interval.
Proactive Management of VMware vSphere
New Host Profiles standardize and simplify how you configure and manage ESX host configurations. Capture the blueprint of a known, validated configuration including networking, storage and security settings and it to many hosts to simplify setup. Host profile policies can also monitor compliance.
Improved energy efficiency with full support for VMware Distributed Power Management, which continuously monitors utilization in a DRS cluster and puts hosts in standby to reduce power consumption when the cluster needs fewer resources.
New vCenter Orchestrator is a powerful orchestration engine simplifies management by enabling you to automate over 800 tasks using out of the box workflows or by assembling workflows using an easy drag & drop interface.
Improved patch management with a compliance dashboard, baseline groups, a shared patch repository in vCenter Update Manager, which automates scanning and patching of vSphere hosts and virtual machines.
New vCenter Server Heartbeat (sold separately) extends availability for vCenter Server, failing over the management server and database over the LAN or WAN to a standby server. vCenter Server Heartbeat has deep awareness of all vCenter Server components and is simple to configure and deploy.
Integrated Physical to Virtual (P2V) machine conversion manages multiple simultaneous conversions of physical machines, non-VMware virtual machine formats, and backup images of physical machines into running virtual machines.
Guided Consolidation, now a module within vCenter Server, walks you step by step through the consolidation process including automatic discovery of up to 500 servers, performance analysis, conversion and intelligent placement on the right host.
A Scalable and Extensible Management Platform
Improved large-scale management is possible with vCenter Server since it is designed from the ground up to handle the largest IT environments. vCenter Server is now a 64-bit Windows application, providing substantial scalability improvements. A single instance of vCenter Server manages up to 1,000 hosts and 10,000 running virtual machines and with Linked Mode you can manage up to 30,000 virtual machines across 10 vCenter Server instances. VMware HA and DRS clusters can support up to 32 hosts and 3,000 VMs.
Linked Mode provides a scalable architecture and visibility across multiple vCenter Server instances, with roles, permissions and licenses replicated across the infrastructure so you can simultaneously log in, view and search the inventories of all vCenter Servers.
Integration with systems management products web services APIs protect your investments and give you freedom of choice in how you manage your environment.
If you would like to find out more about how Iconic IT can help your business with our consultancy services then please contact us today on 0330 088 3338.